MEDIA ADVISORY: August 2 event
Plans for $2 billion investment in MN's electric grid
Transmission lines are the highways for our electric grid to deliver power to Minnesota homes and businesses. Minnesota is now moving forward to invest more than $2 billion in new transmission lines to expand our electric grid. This investment is part of $10 billion in new transmission lines planned for the Midwest under a coordinated effort by MISO (Mid-Continent Independent System Operator), which manages the regional electric grid for 15 Midwest and southern states, and Manitoba.
The Minnesota Department of Commerce, which represents Minnesota consumers on energy issues, along with leaders from energy organizations developing the new transmission infrastructure, will explain more about this major infrastructure investment, which sets the path for the future of Minnesota's energy.
Please join us at the Chester Substation, which will be part of the expansion.
TIME: 10 am, Tuesday, August 2
LOCATION: Rochester Public Utilities – Chester substation 506 50th Ave SE, Rochester (link to map), RPU's substation is along the transmission line proposed for southern MN (Wilmarth–North Rochester–Tremval line)
SPEAKERS:
Minnesota Department of Commerce Commissioner Grace Arnold
Southern Minnesota Municipal Power Agency CEO & Executive Director Dave Geschwind
Rochester Public Utilities General Manager Mark Kotschevar
LiUNA (Laborers' International Union of North America) Kevin Pranis
Xcel Energy Senior Vice President of Transmission Michael Lamb
Additional information:
Rochester Public Utilities staff will provide media with an overview of how the substation is connected to a transmission line and distributes electrical power.
MISO transmission plan report: See slide 7 for transmission lines planned in Minnesota
Infographic: Understanding the Grid (U.S. DOE)
Media contacts: Mo Schriner, Minnesota Department of Commerce mo.schriner@state.mn.us
Tony Benson, Rochester Public Utilities tbenson@rpu.org
Posted: Aug 01, 2022 by Tony B | Comments (0)
View the Partnering in Energy Solutions Borchure
Posted: Jun 03, 2022 by Tony B | Comments (0)
April, 27, 2022 – ROCHESTER, MN – Rochester Public Utilities (RPU), with partners Maier Tree & Lawn and Rochester Parks & Recreation, and Sargent's Gardens will host the 20th Annual Arbor Day Celebration on Friday, April 29 from 11 a.m. to 1 p.m. at Three Links-Silver Lake Park, located at 840 7th St NE in Rochester.
The fun and free community event will feature a variety of activities and displays that will include: A tree giveaway (while supplies last), a free lunch of hot dogs, corn on the cob, chips, cookies, and soda will be provided (while supplies last), and live music from PK Mayo Quartet. Tree experts will also be on hand to answer questions on tree planting and care, along with many other vendor activities and information.
Children will be able to enjoy Smokey Bear, tree medallion necklace, apple toss game, tree ring toss game, bean bag toss, and much more!
At noon, an awards ceremony will honor Rochester elementary school students who were selected as finalists of the Arbor Day poster contest, as well as this year's overall winner, Jia-Xin Fan, a 4th grader at Gibbs Elementary. Jia-Xin will receive a $100 ABC & Toy Zone gift card, her winning poster will be featured in RPU's 2023 calendar, and a tree will be planted in her honor at Gibbs Elementary School. This year's poster contest theme was "Trees Are Terrific and They Keep Our Water Clean!"
RPU line crews will also collaborate with Rochester Parks & Recreation on a tree planting for The Right Tree in the Right Place program on May 5th. This is an annual event to plant the proper type of boulevard trees in different neighborhoods in Rochester.
Co-Sponsors of this year's event include: Hy-Vee, Jim Whiting Nursery & Garden Center, Minnesota Energy Resources, Pepsi, and Seneca Foods.
In the event of rain, the celebration will be moved to Rochester Community & Technical College's Field House.
About Rochester Public Utilities
As the municipal utility of Rochester, MN, for more than 110 years, RPU provides high quality and reliable electricity to over 58,000 customers. Water customers number more than 41,000. RPU continually investigates innovative technologies to help customers realize the best value from the services they receive. Current initiatives include photovoltaic offerings, wind energy, energy and water efficient equipment, and electric vehicle charging.
###
Posted: Apr 27, 2022 by Tony B | Comments (0)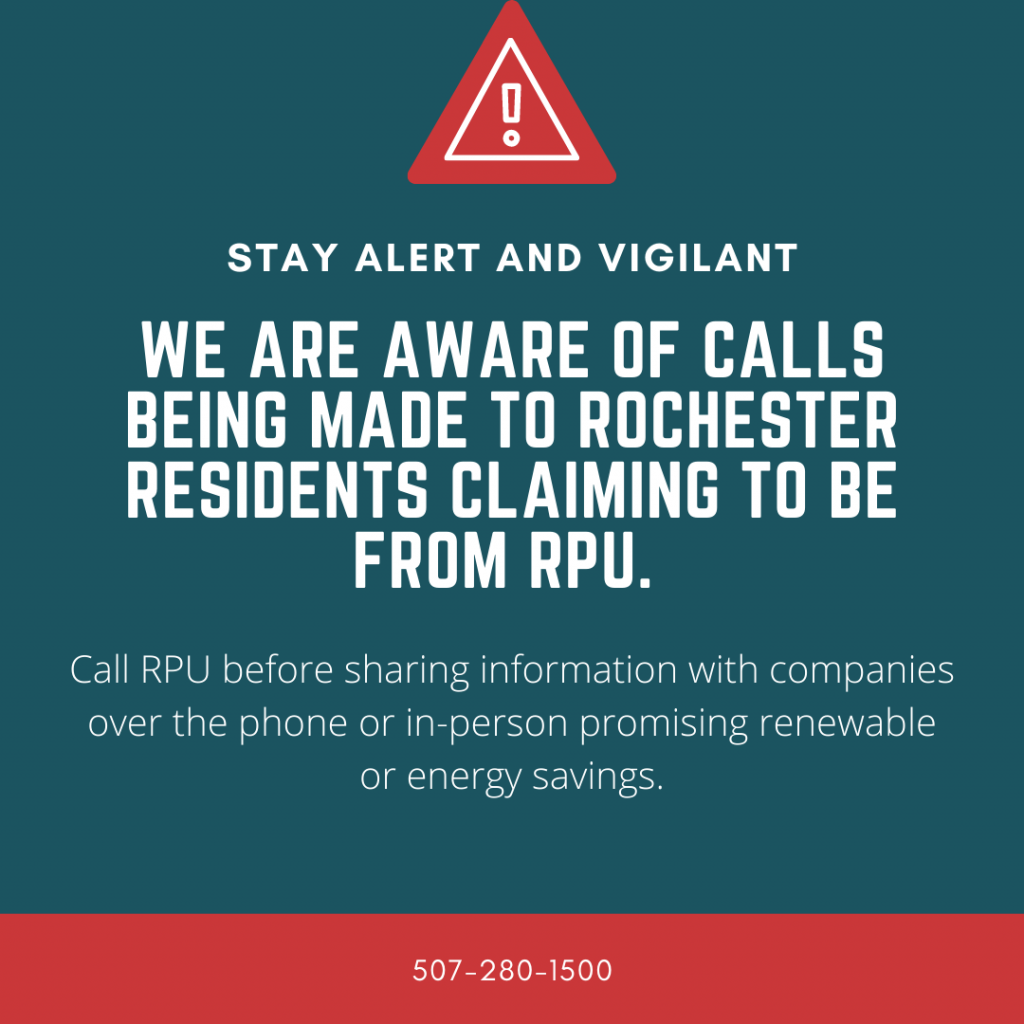 Posted: Apr 15, 2022 by Tony B | Comments (0)
FOR IMMEDIATE RELEASE
Contact:
Arbor Day Foundation
Lauren Weyers
lweyers@arborday.org

Arbor Day Foundation Awards Recognition to Rochester Public Utilities as 2022 Tree Line USA Utility 
Rochester Public Utilities earns the Tree Line USA recognition for their commitment to urban forestry in its community 

LINCOLN, Nebraska – Rochester Public Utilities was named a 2022 Tree Line USA by the Arbor Day Foundation to recognize its dedication to proper urban forest management in the provider's service area.

Tree Line USA, a partnership between the Arbor Day Foundation and the National Association of State Foresters, recognizes public and private utilities for pursuing best practices that protect and cultivate America's urban tree canopy. In addition, Tree Line USA promotes delivering safe and reliable electricity while maintaining healthy community forests.

"Trees are essential to creating more urban green spaces in communities across the United States," said Dan Lambe, chief executive of the Arbor Day Foundation. "In addition, they provide important benefits to residents, including clean air, clean water, and vital tree shade. Service providers like Rochester Public Utilities demonstrate how easily trees and utilities can co-exist for the benefit of communities and residents."

By joining the Tree Line USA program, service providers benefit from lowering line clearance costs due to proper pruning. As a result of those properly pruned and maintained trees, the people benefit from increased reliability of service because those trees will have healthy root systems that decay less, have less structural weakness, and ultimately result in fewer downed lines during storms.

Rochester Public Utilities achieved the Tree Line USA recognition by meeting five program standards: quality tree care, annual worker training, tree planting and public education, a formal tree-based energy conservation, and a sponsorship of or participation Arbor Day celebration.

More information about Tree Line USA can be found at www.arborday.org/TreeLineUSA.

About the Arbor Day Foundation
Founded in 1972, the Arbor Day Foundation has grown to become the largest nonprofit membership organization dedicated to planting trees, with more than one million members, supporters and valued partners. Since 1972, almost 500 million Arbor Day Foundation trees have been planted in neighborhoods, communities, cities and forests throughout the world. Our vision is to lead toward a world where trees are used to solve issues critical to survival.

As one of the world's largest operating conservation foundations, the Arbor Day Foundation, through its members, partners and programs, educates and engages stakeholders and communities across the globe to involve themselves in its mission of planting, nurturing and celebrating trees. More information is available at arborday.org.
# # #
Posted: Mar 25, 2022 by Tony B | Comments (0)