Archive for May, 2010
Monday, May 3rd, 2010
Rochester Public Utilities (RPU) and the American Water Works Association, the authoritative resource on safe water, kicked off Drinking Water Week today, a celebration across North America of our most precious natural resource.
"Drinking Water Week provides a great opportunity to promote the benefits of our drinking water and our water system. Our water system has provided safe, reliable drinking water to Rochester residents for over 100 years. We are especially excited this year because we have just launched our Conserve & Save water rebate program," said Larry Koshire, RPU General Manager.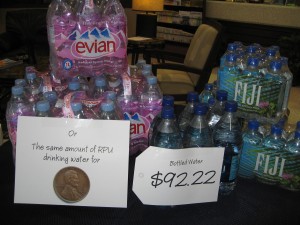 There will be a water comparison display set up at the RPU Service Center showing the price difference between bottled water and RPU drinking water, along with other resources on water quality and additional information on the new Conserve & Save water rebate program.  Customers will be receiving the 2009 Water Quality Report in their bill this month, explaining RPU's water testing results; along with background information on the water distribution system.
RPU is adding water storage capacity by constructing a new water tower located along 50th Avenue in northwest Rochester. When completed later this fall, the new tower will have a storage capacity of 2 million gallons of water. RPU is drilling another well (Well #40), located at the southeast corner of Willow Creek Golf Course. This well will serve the area between 40th St SW and the Rochester International Airport and will be in service by the fall of 2010.
 About Drinking Water Week
A safe, reliable water supply is critical to the success of any community. It creates jobs, attracts industry and investment, and provides for the health and welfare of citizens in ways ranging from disease prevention to fire suppression. We often take water supply for granted until it is threatened, either by drought, water main breaks, or some other event. For more than 30 years, the American Water Works Association and its members have celebrated Drinking Water Week – a unique opportunity for water professionals and the communities they serve to join together to recognize the vital role water plays in our daily lives.
Established in 1881, AWWA is the oldest and largest nonprofit scientific and educational organization dedicated to safe water in North America.  AWWA has more than 60,000 members worldwide and its 4,600 utility members serve 80 percent of the U.S. population.
About Rochester Public Utilities – Water Utility
As the municipal utility of Rochester, Minn., for more than 95 years, RPU provides high-quality and reliable water to over 37,000 customers.  Today, water is supplied to the distribution system by 31 deep wells located throughout the City. These wells extend 400-700 feet in depth in the Prairie-du-Chien/Jordan aquifer. At these well sites, three chemicals are added to the water. Liquid chlorine (bacteria control), Fluoride (for prevention of dental caries), and a liquid blended polyphosphate (for corrosion protection of pipes and the stabilization of iron in the water). Average daily water consumption for the City of Rochester is just under thirteen million gallons.
###