Tuesday, December 28th, 2021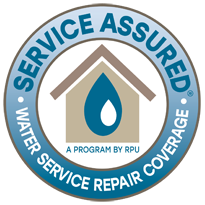 Rochester Public Utilities (RPU) will transition all eligible residential water service customers into RPU's Service Assured® Water Service Repair Coverage Program starting on January 1, 2022.
RPU's Service Assured® Water Service Repair Coverage Program protects homeowners from costly water service repairs in the event that the service has a failure due to old age, improper installation, corrosion, freezing, or valve failure.
The expansion was approved as a part of RPU's and the City of Rochester's 2022 budget process. All eligible RPU residential water customers that are not already enrolled in the program will automatically be added and billed $1.99 per month.
With this new expanded program, RPU will be able to quickly address costly water service repairs with no hassle or worry to customers.
Any customers wishing to not receive the Service Assured® Water protection may opt out of the program by calling RPU Customer Care at 507-280-1500 or by visiting www.rpu.org to complete and submit an opt-out form. However, those customers choosing to opt-out will not be allowed back on the program for 12 months, even if a costly repair is needed. Any repair will be at the customer's expense if you are not enrolled in the program.
Service Assured® Electric coverage will continue to be an opt-in coverage for underground residential electric service protection. For additional information on RPU's Service Assured® Underground Service Repair Coverage, please visit www.rpu.org.
About Rochester Public Utilities
As the municipal utility of Rochester, Minn., for more than 110 years, RPU provides high-quality and reliable electricity to over 56,000 customers. Water customers number more than 40,000. RPU continually investigates innovative technologies to help customers realize the best value from the services they receive. Current initiatives include photovoltaic offerings, wind energy, energy and water efficient equipment, and electric vehicle charging.
###