RPU Celebrates Public Power Week October 3-9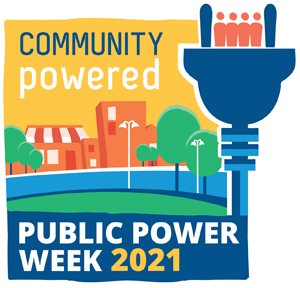 Rochester Public Utilities is celebrating Public Power Week, Oct. 3-9, along with more than 2,000 other community-powered, not-for-profit electric utilities that collectively provide electricity to 49 million Americans.
"This year, we especially celebrate the employees of RPU, the people behind public power,"said Mark Kotschevar, RPU General Manager. "These folks work tirelessly to keep ourcommunity up and running 24 hours a day seven days a week," said Kotschevar. "Our dedicated teammates work in many departments including customer care, safety, accounting and finance, communications, field supervision, energy services, and engineering and operations; and pull together with a common goal: keeping Rochester powered."
"The people behind public power take pride in serving our friends and neighbors with safe, reliable electricity and water services, our most essential needs," said Kotschevar. "RPU is proud to have served Rochester for over 120 years."
RPU invites community members to participate in celebrating Public Power Week by visiting the RPU Service Center where kids will receive an RPU Halloween bag with candy and fun activities associated with safety and public power (while supplies last).


About The Public Power Association
Public Power Week is an annual national observance coordinated by the American Public Power
Association. The American Public Power Association is the voice of not-for-profit, community-owned utilities that power 2,000 towns and cities nationwide. The Association represents public power before the federal government to protect the interests of the more than 49 million people that public power utilities serve, and the 93,000 people they employ. It advocates and advises on electricity policy, technology, trends, training, and operations. Its members strengthen their communities by providing superior service, engaging citizens, and instilling pride in community-owned power. More at www.PublicPower.org
About Rochester Public Utilities
As the municipal utility of Rochester, Minn., for more than 110 years, RPU provides high-quality and reliable electricity to over 56,000 customers. Water customers number more than 40,000. RPU continually investigates innovative technologies to help customers realize the best value from the services they receive. Current initiatives include photovoltaic offerings, wind energy, energy and water efficient equipment, and electric vehicle charging.
###