Center for Energy and Environment and Neighborhood Energy Challenge partners Honored with Rochester Energy Commission Community Partnership Award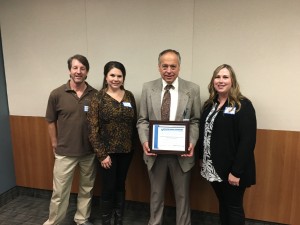 Pictured l-r- Greg Ernst, Stacy Boots Camp (CEE), Rory Lenton (MER), Stephanie Humphrey (RPU)
For Release November 5, 2015
Media: Tim Hanrahan, 612-244-2419, thanrahan@mncee.org
NEWS RELEASE
Center for Energy and Environment and Neighborhood Energy Challenge partners Honored with Rochester Energy Commission Community Partnership Award
November 5, 2015, Minneapolis — The Rochester Neighborhood Energy Challenge was recognized this week with a Community Partnership award from the Rochester Energy Commission. Center for Energy Environment shares the honor with its program partners Minnesota Energy Resources, Rochester Public Utilities (RPU), and energy audit contractor G.A. Ernst & Associates, Inc.
"Collaboration is crucial for our work," explains Stacy Boots Camp, CEE's outreach coordinator. "The Neighborhood Energy Challenge Program wouldn't be possible without administrative coordination, clear communication, technical expertise, financial backing, and more. Each shared effort contributes to the program's overall success, leading to a triple payoff for Rochester residents — homes with lower energy bills that are also more comfortable and easier on our environment."
The sustainable community awards were presented by Rochester's Committee on Urban Design and Environment, a group within the Energy Commission that focuses on efforts contributing to Rochester's environmental and aesthetic enhancement. Attendees for the Tuesday morning breakfast ceremony at the Mayo Civic Center included Rochester Mayor Ardell Brede, several city council members, and local media. The full 2015 awardee list, by category:
Commercial: Olmsted Medical Group — Health Pavilion
Community Site Enhancement: Farmer's Market Mural
Rehabilitation: Forager — 1005 6th Street NW
Energy Updates and Renewable Energy: Assisi Heights
Community Partnership: Rochester Neighborhood Energy Challenge Program
New Building — Public: Transit Operations Center
Education: Cascade Meadows Wetlands and Environmental Science Center
In addition to its work with Neighborhood Energy Challenge and other regional programs, CEE is an active partner in Rochester's community and energy development. At the request of the Destination Medical Center (DMC) Corporation's board of directors, The McKnight Foundation engaged CEE this year to provide recommendations to advance the DMC's energy and climate goals, coordinate energy infrastructure strategies and operating principles, and identify metrics by which various benefits can be measured.
About Rochester Neighborhood Energy Challenge
Neighborhood Energy Challenge is a full-service residential energy audit program that includes a free home energy workshop, a home visit and installation of energy-saving materials, and help with additional steps for energy efficiency as needed. If the home visit discovers opportunities for additional savings by improving insulation, attic air sealing, or replacing old heating equipment, the program can also help connect homeowners to qualified contractors, financing, incentives, and rebates. The first step toward a home energy audit is to sign up for the next free workshop:
Rochester Homeowners "Saving Energy 101" Workshop
Monday, November 16, 2015, 6:30 pm
Bamber Valley Elementary School
For more info, visit www.rpu.org/your-home/rebates-programs/energy-audits.html.
About Center for Energy and Environment
The Center for Energy and Environment is a Minnesota nonprofit that promotes energy efficiency to strengthen the economy while improving the environment. For over 35 years, CEE has provided a range of practical and cost-effective programs to help Minnesota homeowners, businesses, nonprofits and governments reduce energy waste and save money. Online at mncee.org.