Wednesday, September 24th, 2008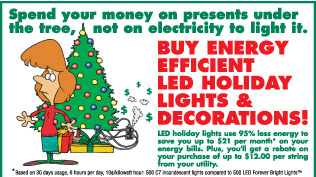 Well, it's about time I get a chance to announce something exciting. We've revamped our LED lighting rebate to include more string lengths. LED's are quickly becoming a popular solution for a number of lighting applications, but it seems to really be taking off with holiday and decorative lighting.
It seems like every year when I go to look at the LED lighting, they're already gone. So make sure you buy your lighting early and sending in your rebate information early too.
The deadline for sending in the LED rebate form is March 31, 2009 but beat the rush and get yours in soon.  I've posted the link to download the rebate form below.
If you find a good selection somewhere in town or have other applications that you use LED lighting for around the house, we'd love to hear about them.