Well #41 Goes in-Service
Rochester Public Utilities (RPU) held a ribbon cutting for the new Well #41 in southeast Rochester and placed it in-service as RPU's newest water supply facility.
The new 470' deep Jordan Aquifer well pumps water directly into the Main Level Service Area and is located just east of the Rochester Community and Technical College.  In the future, Well #41 will also have the ability to pump boosted pressure water into the Rose Harbor High Level System.
The well was constructed by EH Renner & Sons. The Well house that encloses the well was constructed by Alvin E. Benike, Inc. Total Cost of the well/well house was approximately $850,000.
Currently, Well #41 produces approximately 1,000 gallons per minutes (gpm).  As growth continues in the SE area, Well #41 can increase its production up to 1,800 gpm.  Prior to pumping water into the system, Well #41 receives the addition of chlorine (for disinfection), fluoride (prevention of tooth decay) and a polyphosphate blend (for corrosion Control).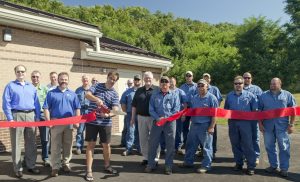 About Rochester Public Utilities
As the municipal utility of Rochester, Minn., for more than 110 years, RPU provides high-quality and reliable electricity to over 50,000 customers.  Water customers number more than 39,000.  RPU continually investigates innovative technologies to help customers realize the best value from the services they receive.  Current initiatives include photovoltaic offerings, wind energy, energy and water efficient equipment, and electric vehicle charging.
###