RPU Receives Diamond RP3 Designation from American Public Power Association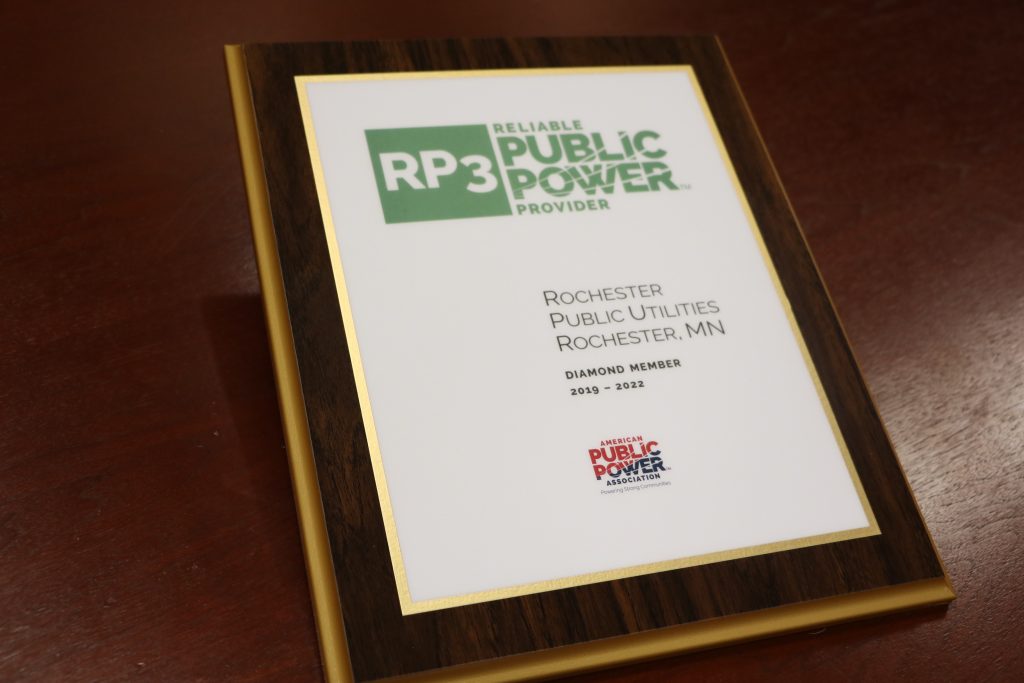 Rochester Public Utilities (RPU) received the 2019 Reliable Public Power Provider (RP3) Diamond designation by the American Public Power Association (APPA). RPU was honored at the APPA Engineering and Operations Conference in Colorado Springs, CO on Monday, April 1, 2019.
The Diamond designation is the highest level achievable within the RP3 designation. RPU scored a total of 99.5 points out of a possible 100. RPU is one of only 254 public power utilities nationwide that hold the RP3 designation.
The RP3 designation, which lasts for three years, recognizes public power utilities that demonstrate proficiency in four key disciplines: reliability, safety, workforce development, and system improvement. Criteria include sound business practices and a utility-wide commitment to safe and reliable delivery of electricity.
Applications are reviewed by an 18-member panel of public power representatives nationwide.
The American Public Power Association has offered the RP3 designation for 13 years now. The Association is the voice of not-for-profit, community-owned utilities that power 49 million people in 2,000 towns and cities nationwide. The Association advocates and advises on electricity policy, technology, trends, training, and operations.
Additional information regarding the APPA RP3 designation can be found at www.publicpower.org or by contacting Tony Benson at 507-280-1534 or email at tbenson@rpu.org.
About Rochester Public Utilities
As the municipal utility of Rochester, Minn., for more than 110 years, RPU provides high-quality and reliable electricity to over 54,000 customers. Water customers number more than 40,000. RPU continually investigates innovative technologies to help customers realize the best value from the services they receive. Current initiatives include photovoltaic offerings, wind energy, energy and water efficient equipment, and electric vehicle charging.
###