Environmental Achievement Awards Recap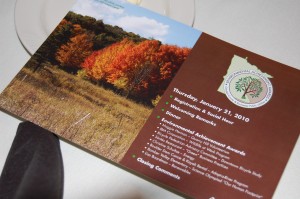 The 2009 Environmental Achievement Awards were handed out at an award ceremony last night held at the Rochester Golf & Country Club. Recipients were recognized for their efforts toward helping the local environment in Rochester and Olmsted County.
Award recipients were:
Maggie Herman- Quarry Hill Volunteerism
IBM Corporation- Wildlife at Work Program
Bicycle Pedestrian Advisory Committee-Downtown Bicycle Study
Sontes Restaurant- Green Business Practices
Christine Schultz- Energy
Boulder Dam Canoe & Kayak Rental- Adopt-a-River Program
Bamber Valley Elementary- Science Olympiad "Our Human Footprint"
Lisa Boardman- Renewables
Pictures from the event will be posted soon.