Cold weather tips to better ensure that your water service doesn't freeze this winter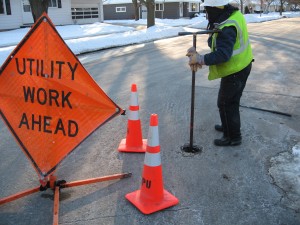 Cold weather can cause problems with your home's water service if ignored. Taking proper precautions now can better ensure that your water pipes work properly throughout the cold winter months. Here are some things to be aware of and steps to take to keep your water flowing without problems.
1)    Make sure all of your garden hoses on outside faucets are disconnected.
2)    If you have an irrigation system, make sure it is disconnected and winterized.
3)    If you live in a manufactured home, make sure your heat tape is turned on and working properly.
4)    If you have water pipes located in closets or cabinets along an outside wall, open the doors and let warm air from your home circulate into these openings to prevent the pipes from freezing.
5)    Make sure the cold air return line from your furnace is not blowing directly on your internal water pipes.
6)    If you have experienced frozen water services in the past, starting in mid-December you should begin monitoring the temperature and condition of your water. Taking your water's temperature is a simple way to avoid a costly problem. If the water temperature reaches 35 degrees, your water service could be in danger of freezing. You should begin leaving a small stream of water flowing from a faucet in the lower level of your home.
7)    If you are leaving your home for an extended time period during the winter, you should turn off your water supply at the valve located near the water meter. You should set the thermostat on your furnace to no lower than 55 degrees. You should also call RPU with the dates you will be gone and leave a name and phone number of a person in the area who would know how to reach you in case of a utility emergency at your home.