Home Serve letters not affiliated with RPU
Letters recently mailed to Rochester residents advertising home water service protection are in no way affiliated with RPU. The letters state that residential customers can cover their home water service for a monthly fee through Home Serve.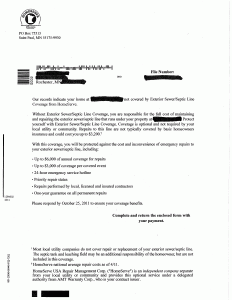 RPU has a program called Service Assured® to cover underground utility repair for both electric and water services. Service Assured® is available to RPU residential customers living in single-family homes or single-owner duplexes, and some townhome associations, individual twinhomes, and triplexes where each unit has its own service line.
Customers can call RPU at 507-280-1500 to sign up for RPU Service Assured®.
About Rochester Public Utilities
As the municipal utility of Rochester, Minn., for more than 110 years, RPU provides high-quality and reliable electricity to over 45,000 customers. Water customers number more than 34,000. RPU continually investigates innovative technologies to help customers realize the best value from the services they receive. Current initiatives include fuel cell research, wind power, and photovoltaic offerings.
###