RPU announces events to celebrate Public Power Week, October 4-10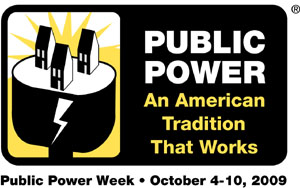 october 1, 2009
CONTACT:        Tony Benson
                        Communications Coordinator
                        507-280-1534
                        tbenson@rpu.org
RPU announces events to celebrate Public Power Week, October 4-10
ROCHESTER, MN— Rochester Public Utilities (RPU) will celebrate Public Power Week by helping to build a local home with the Rochester Area Habitat for Humanity (RAHH), along with holding other special events throughout the week.
Public Power Week is a week for communities to celebrate the benefits of having a public power provider. As a public power provider, RPU is very active in helping the local community through organizations such as the RAHH.
On October 7 and 9 from 11- 1 p.m., RPU will have an informational booth set up at University Square with information on Conserve & Save rebate offerings and Public Power. In addition to the information available, a limited number of compact fluorescent light bulbs will be given away.
RPU will also reach out to the community by opening its doors to the Silver Lake Plant for tours of the facility and the new emission reduction project. Tours will be on October 8 and 9 from 1-2 p.m. and will be approximately one hour. If you are interested in a tour contact Tony Benson at RPU at 507-280-1534 or email at tbenson@rpu.org. Space is limited and you must be signed-up prior to the tour.
"Public Power Week is a time for us to make a special effort to connect with our customers and the community. We strongly encourage the community to come out and see the benefits of having a public power provider and to celebrate Public Power Week with us," said Larry Koshire, RPU General Manager.
For more information on RPU and the Public Power Week events, please visit the RPU web site at www.rpu.org.
About Rochester Public Utilities
As the municipal utility of Rochester, Minn., for more than 110 years, RPU provides high-quality and reliable electricity to over 47,000 customers.  Water customers number more than 36,000.  RPU continually investigates innovative technologies to help customers realize the best value from the services they receive.  Current initiatives include fuel cell research, wind power, and photovoltaic offerings.
###